CHRC is one of the top rehab facilities in Ontario. Our program challenges all the old assumptions about alcoholism and drug addiction.
At the CHRC Addiction Treatment Centre, our approach is vastly different than that of traditional treatment models. We address addiction as both behavioural and biochemical in nature.
Through research and working with leading experts in the field, it's clear to us that the traditional psychological model and 12-step-based programs simply don't work for a large percentage of people, as they do not address the biochemical imbalances, nutritional deficiencies and neurological conditions that underlie addictive behaviour. That is why Canadian Health Recovery Centre should come as your top choice when looking for the best drug and alcohol rehab facilities that offer inpatient residential addiction treatment in Toronto, Canada.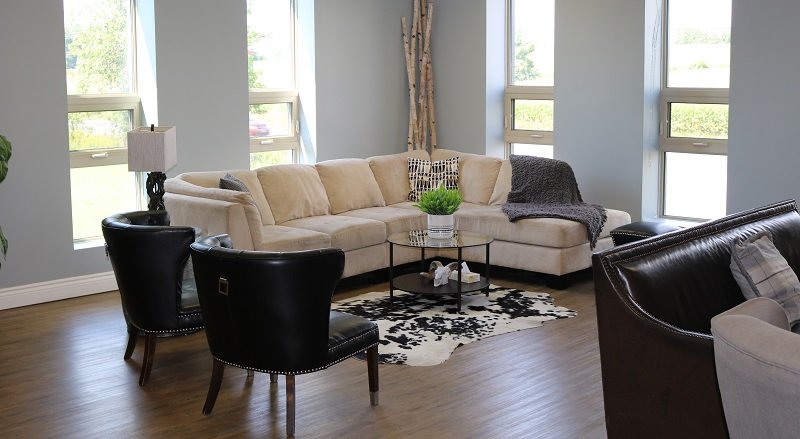 At CHRC, we're changing the status quo. Our holistic treatment model is based on the latest scientific research, strategically focused on the whole person, not just the addiction.
Call Now, Toll-Free 1-844-539-2225
First We Treat The Body
Research conclusively demonstrates that biochemical factors influence addictions.
Through new research in medicine and neuroscience, we know that while there are social-emotional factors that contribute to addictive behavior, the brain biochemistry of a person suffering with addiction is different than the biochemistry of someone who is not dependant on drugs or alcohol. The lifestyle of a person dependent on alcohol or drugs typically results in further depletion of important nutrients which, over time, interferes with brain function and reinforces the dependence. Rebalancing the body on a biochemical and neurological level is a key element in lasting recovery, as it addresses the deficiencies and imbalances that often make an individual prone to addiction.
At CHRC – on of the top rehab facilities in Toronto, we understand that the physiological and neurological damage caused by the abuse of alcohol and/or drugs must be treated as part of the process of recovery if life-long sobriety is the goal. We use orthomolecular nutrition to rebalance and nourish the body on a biochemical level – the body and mind are strengthened, and overall health and vitality are improved. A healthy body has reduced cravings, fewer mood swings, more self-control and less physical and emotional pain. Our orthomolecular nutrition treatment program lays the foundation for physical and emotional healing and normalized neurotransmitter function.
CHRC utilizes laboratory data, nutritional supplementation and a specialized diet to balance the body's biochemistry, target cravings and facilitate mental-emotional health.
Then We Treat The Mind
Scientific research over the last 10 years has drastically changed what we once thought we knew about the brain.
New research and technologies have opened the door to mapping the brain and we now know that the brain can be re-wired and new neuropathways developed. Thoughts, behaviours and emotions can be changed and overcome with practice and technique.
At the Canadian Health Recovery Centre, we consider addiction and recovery to be neuroplastic events and that even the most habituated unhealthy behaviour patterns can be changed and new healthy behaviours created. Lives can be transformed.
We believe that treating the whole person is integral to recovery success. We offer a comprehensive treatment approach to alcohol and drug addiction recovery in a safe, nurturing environment where men are able to focus on issues such as drug and alcohol dependency, guilt, self-esteem, codependency, anxiety, depression, relationship resolution – without prescribing psychotropic drugs.
We recognize the importance of individual counselling for personal recovery and that fostering a confidential, secure and therapeutic treatment plan developed collaboratively between client and counsellor with frequent, ongoing sessions is paramount in the healing process.
In addition to group and individual counselling, our integrative program includes yoga and meditation classes, spiritual care and guidance, massage, acupuncture, art therapy, pet therapy, life skills coaching and a fitness trainer.
We provide a personalized program based on the clinical and medical needs of each guest. CHRC delivers a gold-standard of service with exceptional staff-to-client ratios. Addiction counsellors are available 24 hours a day, 7 days a week.
Then We Treat The Spirit
In the state of spiritual poverty, we fixate on external sources of pleasure, power or meaning in our effort to fill the unendurable void.
"…the discoveries of science, the teachings of the heart and the revelations of the soul all assure us that no human being is ever beyond redemption. The possibility of renewal exists so long as life exists."
~ Gabor Maté, M.D., In the Realm of Hungry Ghosts
Too often, individuals who are trapped in the cycle of addiction consider themselves as failures and see their addiction as a character flaw, rather than the illness it really is.
"Spiritual work and psychological work are both necessary to reclaim our true selves."
~ Gabor Maté, M.D., In the Realm of Hungry Ghosts
At the Canadian Health Recovery Centre, we believe that for full recovery – one that leads to a life of joy and fulfillment – we need to treat the soul. We will help you throw away the guilt and the anxiety and the misconceptions that surround chemical dependency. We will help you build new truths, new relationships and a new outlook on life.
Our skilled clinicians and specialists deal expressly with the complexities of restoring the mind, body and spirit.
"Never let your past keep you from pursuing what you know in your heart you were meant to do."
~ Pete Wilson, Let Hope In